Kearl Cardigan
$269.00
The Kearl cardi is an effortless off-duty staple that's perfect for layering between seasons
Description
Our Kearl Cardigan is knitted in 100% New Zealand grown and made alpaca yarn from our farm in Taumarunui.
Alpaca knitwear has some great advantages,
– There is no lanolin in alpaca fibre making it hypo-allergenic, perfect for sensitive skin.
– Alpaca fibre is a natural insulator, making it one of the warmest weatherproof fibres on the market. (30% warmer than sheep's wool)
– It also allows for breathability in warmer climates and can be extremely lightweight. This multi-functionality makes alpaca fibre products  perfect for every climate.
– Alpaca fibre is strong and durable, which is why it resists stretching and keeps it original shape more easily than other fibres.
Available in the following colours:
Natural White
Natural Brown
Natural Black
Pumice (Fawn)
Bark (Dark Brown)
Mocha (Donkey Brown)
River (Navy)
Pond (Dark Blue)
Pukeko (Blue)
Sky (Light Blue)
Blossom (Dusty Pink)
Thistle (Bright Purple)
Grape (Dark Purple)
Matai (Plum)
Melon (Bright Watermelon)
Delight (Red)
Rustic (Rustic Red)
Marigold (Deep Mustard)
Fern (Light Green)
Leaf (Dark Green)
Clover (Bright Emerald)
Meadow (Khaki Green)
Mallard (Turquoise)
Papa (Charcoal)
Metal (Dark Grey)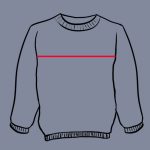 Please Note, if you are looking for a larger size, please email us with what colour you are wanting and we'll let you know if we can make it for you.
Also if you have extra long arms for example, we can custom make each garment to fit,  Contact us  with your measurements and we'll let you know if we can custom our design for you.