Nevalea Magnum has won Supreme Champion Huacaya Fleece at the Rotorua Show. This is the 3rd year in a row that Nevalea Alpacas has won this award
Nevalea Magnum is a beautiful young male, his dam is Nevalea Gorjis and his sire is Brenor Futuristic, who also won this award in 2016.
Nevalea Magnum also won Champion White in the Show Ring.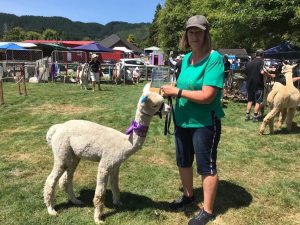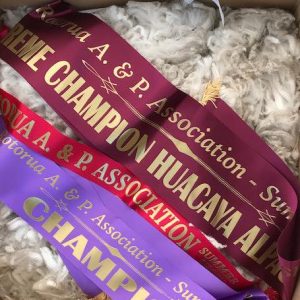 Nevalea Kandy Kane – 1st place, Intermediate Light Fawn Male, also awarded Champion Light Fawn
Nevalea Miro – 1st place, Junior Black Female
Nevalea Mona – 1st place, Intermediate Black Female
Nevalea Lazuli – 3rd place, Intermediate White Female
Nevalea Mandy – 1st place, Junior White Female
Nevalea Milton – 2nd place, Junior Mid/Dark Fawn Male
Nevalea Marsala – 1st place Junior Mid/Dark Fawn Male, also awarded Reserve Champion Mid/Dark Fawn
Nevalea Magnum – 1st place Junior White Male, also awarded Champion White
Nevalea Morris – 1st place, Junior Black Male
Nevalea Merlin – 2nd place, Junior Black Male