Nevalea Alpacas, the largest alpaca farm in New Zealand, is home to over 700 friendly alpacas. We offer visitors 'The Ultimate Alpaca Experience' and have a range of different activities to choose from to give visitors an opportunity to get up close to the alpacas, hand feed them and feel just how soft and cuddly the alpacas are.
We operate alpaca treks through the summer months, where visitors can walk an alpaca around the farm and see hundreds of alpaca come to greet them in the hills, spectacular views surrounded by alpacas. We also offer a shorter alpaca walk throughout the year as another option.
We have new-born baby alpacas all year-round, and for a unique opportunity offer visitors the chance to have a cuddle with a baby alpaca. Great up close and personal experiences and chances for some amazing photos.
See below for all activity options and bookings,
please note that advance bookings are required for our alpaca activities.
Activities with the Alpacas
A guided tour which includes:
• Taking part in an interesting and informative presentation about alpacas and their exquisite fibre, learn about how we shear our alpacas and turn their fibre into clothing in our farm shop.
• Then you will head out to meet a group of our friendly alpacas and their babies, where you can get up close, and feel just how soft they are, ask questions and learn about alpacas.
•You will have an opportunity to browse through the shop after the activity.
Optional Extra: Enjoy a morning or afternoon tea after your Alpaca Experience. We will set up an area for your group with select of sweet and savoury food, along with Tea & Coffee.
A minimum of 10 people required
Contact us for more information about our senior group bookings
School/Kindergarten Groups
An interesting and informative presentation about alpacas, tailored to suit the age group of the children.
Children can meet our friendly alpacas, where they can get up close to the cria (baby alpacas), feel just how soft their fibre is and hand feed our sociable alpacas.
Children will also have an opportunity to lead our alpacas around a small obstacle course.
Tour takes approximately 1-2 hours
You are welcome to bring your own morning tea and enjoy a picnic surrounded by our alpacas.
Contact us for more information about our school group tour and prices.
Children's Birthday Parties
You'll start with feeding the alpacas and the children will have a chance to give a cria (baby alpaca) a cuddle
You will then take the alpacas for a walk to a special birthday area that we have set up for your special party.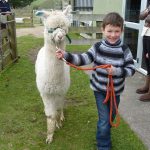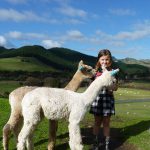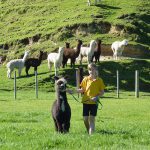 The birthday table will be set up with morning or afternoon tea for the children to enjoy. We'll then play some games and conclude the party with walking the alpacas back.
Party Price: $150.00 (For up to 6 children & 4 parent helpers, $20.00 per children after the 6th child, maximum of 12 children)
Party Details:
Price is for 6 children
Picnic Morning/Afternoon tea – picnic includes a drink, an alpaca biscuit, a cupcake and a lollypop for each child. (we setup before you arrive and clean up after)
2 Party Games that we organise and run during the party.
A cup of alpaca nuts for the children to feed the alpacas, and they get to take the cups home as a souvenir.
Your welcome to bring your own birthday cake.
Optional Extra: Morning/Afternoon tea can be catered for the adults if required, please contact us for a price on this option