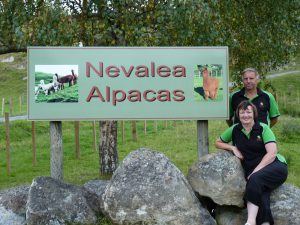 We are Leonie and Neville Walker and our journey into the amazing world of alpacas began in July 2007 with the purchase of 2 females with cria at foot, followed by a few more, until we now farm over 600 alpacas.  Nestled in the hills of the King Country on the adventure highway 16kms north of Taumarunui we farm these beauties together with our sheep and cattle. Fibre and genetics have always been an interest for us both, having had a sheep stud for several years and also working with stud cattle.
Knitting and design was once an interest which was put in the cupboard until the alpacas came along, then the knitting machine came back out.  Having this luxurious fibre with a natural colour pallet of whispery whites, earthy browns and beautiful blacks was very appealing, and we wanted to make the very best use from our alpaca fibre.   We aim to get the fibre off the alpacas and into usable product before the next shearing time.   This stage is exciting and rewarding, following the fibre through the cycle until it returns back to the farm again in the form of yarn ready to be knitted into garments.
Proudly 100% New Zealand grown and made.
Our shearing starts from October, Neville shears all our alpacas, by himself, he has the task mastered to a one man operation and also shears about 100 other alpacas off farm and to date shears all our sheep.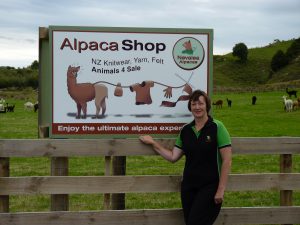 Leonie does all the designing, drafting up the patterns and sets the work for the knitters and completes the finishing. We started selling garments from out of a box, then Neville built the farm shop and we opened in May 2011.  The operation has grown to employing 14 staff, not including ourselves. We also have an online shop, which features some of our products. We produce designer garments for women, men, children and babies, and have a  large range of accessories and homeware.  Our own knitting yarn is also available for sale.  Our garments are being worn worldwide.
In 2012 we started to offer tourists 'the ultimate alpaca experience' we have meet some very interesting people from all over the world. Quite a few bookings are made before they leave their home country, others are as drop in visitors.  The New Zealand bookings can come 12 months in advance, these often request morning teas or lunch.   The local schools and pre-schools also enjoy educational outings when they visit the farm.
We welcome your visit where you will ….  Be Spoilt by Choice